Small Business Payroll in Sussex
PayAssist does a lot of work helping small businesses in Sussex with payroll – and there's good reason why many companies choose to use us for outsourced payroll services.
Setting up a payroll for a small business can be a difficult challenge, especially as your business grows and the payroll needs to scale with it.
It's not enough to simply 'have a payroll system' – it needs to be set up in the right way according to the needs of your business.
The cost of an incorrect payroll setup
HMRC collected £373 million from SMEs in 2015 following investigations into tax avoidance and errors relating to employer compliance. Much of it was underpaid payroll tax – largely due to genuine errors.
While SMEs account for just 11 per cent of all paid UK payroll, they were responsible for over half of the money collected by HMRC!
It's plain to see why smaller businesses in Sussex without dedicated payroll experts to hand might need their help – at the very least to avoid a surprise investigation caused by overlooking something that seems inconsequential.
Potential errors
Overpayment, underpayment, incorrect tax withholding, organisational consistency, administrative errors…there's a whole host of reasons you might end up with a payroll problem.
Then there are the other things – that someone who's not a payroll expert might not even consider.
For example: as a small business, you might look to hire a temporary worker to help you for a period of time.
But is that temp technically a temp, or rather a consultant, a freelancer, or an employee? How they might be classified can change how they're paid and taxed, so getting it right is important.
Even something as seemingly minor as whether someone working for you has access to the lunch room can change how they're classified.
Therefore, having a solid payroll system in place is critical to ensure your employees are paid when they expect to be, both accurately and legally.
And remember – if you mishandle your employee's wages, you might not notice at first…but they definitely will!
Effect on employees
It's been reported that over half of small business employees would lose trust in an employer who made mistakes with payroll – while over one in three would look for a new job after just one instance of being paid incorrectly.
Bear in mind that a payroll issue can quickly become a management issue and affect company morale.
It's also important to remember the place payroll has in the overall financial area of your business.
If you're having trouble getting invoices paid, for example, you don't want to be in a position where you're unable to pay your staff.
Having some surplus cash stashed away can therefore be a lifesaver, and something that any business, any size, should take into account.
Manual, software, or outsourcing?
There are over 200,000 employing small businesses in Sussex and the rest of the South East – that's a lot of businesses needing to do payroll.
But how should you approach it?
First, it's technically possible to do payroll manually, without a computer.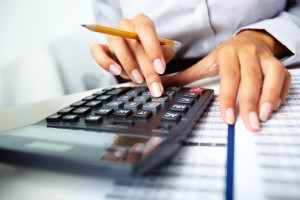 Working out tax and national insurance with a calculator and writing payslips by hand can be done…but you'd be hard pressed to find someone that would recommend this method, and we hope there aren't any small businesses in Sussex operating payroll like this!
Using payroll software is another option.
This involves purchasing a licence to a computer program that enables you to input details about your employees.
However, using software involves a steep learning curve for whoever will be its main user, and may even require formal training.
This means that, as well as the cost of the licence, you need to factor in the cost of this extra time resource.
In fact, if administering it is a big enough task, it may involve hiring a dedicated staff member – or even a whole team.
Moreover, payroll law gets updated, and things can change from one year to the next.
This means that it's likely the payroll software will likely also need to be updated. Depending on which program you bought, this could again mean extra cost each year.
Payroll software also ideally needs to be integrated with other information systems that a company may use, such as timekeeping software or a CRM.
Essentially, payroll software can be a solution, and is used by many businesses.
However, it can be a 'one size fits all' means to an end, rather than a bespoke service tailored for your business, and end up costing more than you initially assumed it would.
Outsourcing payroll to a specialist company is now a popular method of managing payroll and is very affordable – even for small businesses.
Using a dedicated payroll company means that, by paying a flat fee, you can leave all payroll management in the hands of people that do it day in, day out.
It can be seen by small business owners as a business expense, but it should instead be seen as an investment due to the additional benefits.
Any changes to payroll rules, regulation and legislation will be noted and immediately taken into account.
Moreover, advances in payroll technology (such as e-payslips or mobile access) can be implemented quickly and effectively. As The Office Group, a PayAssist customer, notes: "innovations such as e-payslips has improved our efficiency and has been well received by our staff."
And any time otherwise spent by your staff doing payroll is now freed up, and it stops the risk of a skills gap should your in-house payroll worker leave.
Plus, it gives you peace of mind that it's in good hands, and alleviates any potential headaches from trying to do it yourself!
So if you're a small business in Sussex in need of some assistance with payroll, we would love to hear from you.
PayAssist offers a professional, friendly payroll service, tailored for your business.
We've a range of options to suit your particular needs – including BACS payments, e-payslips, and pensions auto-enrolment.
Our dedicated team of specialists can handle your entire payroll function, whether you have one employee or several hundred.
Visit our payroll services page to find out more about what we can offer, and don't hesitate to get in touch to discuss your business's payroll needs and get a quote.